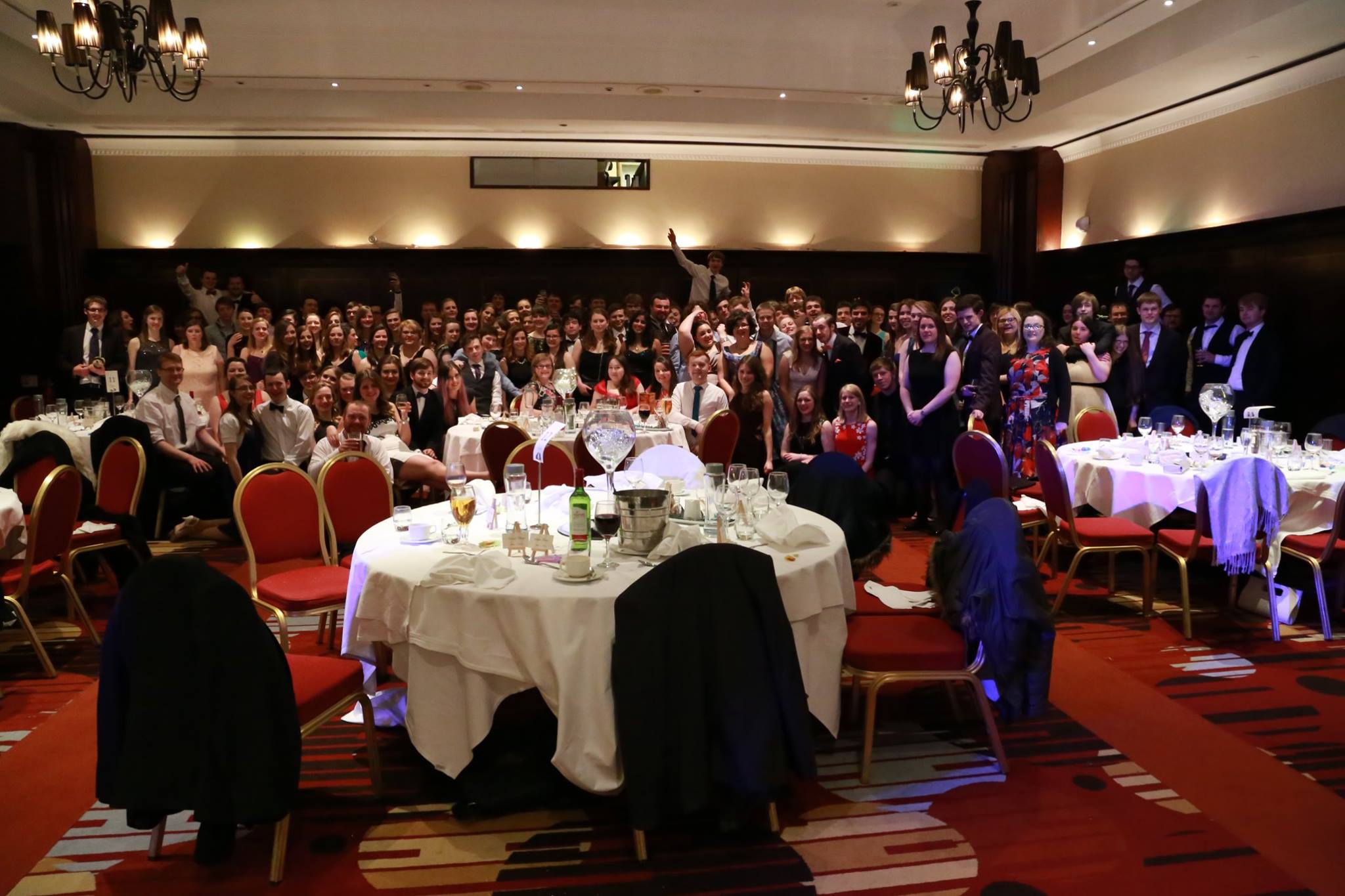 Following on from a successful bid at Lancaster superhero rally in February 2015, Leeds SSAGO (LUUSAG) began preparations to host the national ball in 2016.
Having formed a committee, delegated roles and creating the all important committee facebook group, we threw ourselves into the various areas of planning that hosting a national event requires. After deciding on the Marriott as the venue and 'Northern Lights' as the theme, we got onto the finer details, such as the creation of our 'Grub's Up' challenge badge pack as a method of fundraising, designing the ball badge, organising the accommodation, and of course, dealing with the joys of HSB...
When the ball weekend finally came around, we ensured that we had enough planned to keep those SSAGO members arriving early occupied. This began with Chris leading a pub crawl around some of the city centre's best real ale pubs on the Friday evening, whilst the rest of the committee completed the final preparations for ball, such as packaging sweets into northern lights coloured mesh bags for the tables, cutting out placecards and unpackaging miniature easels to put them on! On the Saturday of Ball, 2 of our LUUSAG members, Josephine and SSAGO Matt led a hike around Ilkley Moor, before returning with plenty of time to get ready for ball in the evening.
SSAGO arrived at the Marriott at 7pm, where they were greeted with drinks and given time to reacquaint with friends from across the country before sitting down to eat. Following a lovely 3 course meal, speeches were given by members of the outcoming and incoming SSAGO exec, aswell as Cecilia and Sophie from our Ball committee before the tables were moved and the room became a dancefloor for the evening!
The playlist was of course compiled by LUUSAG, with our love of 80's/90's air guitar songs and power ballads evident throughout, however we did also allow some more recent music to enter the mix in order to keep everyone happy! Due to popular request, the playlist is attached at the bottom of this article for all to enjoy.
Overall, everyone had a great time at this years national SSAGO ball (we know this because Sophie went around the room asking everyone who would listen for their 'trip advisor score out of 5' for the event...). So thank you to everyone for attending, and thanks to the 2015/16 national exec for helping us to put on such a great weekend! We're now starting to plan for summer rally 2017, so we hope to see you all there!
Ball Playlist
| | |
| --- | --- |
| Song Title | Artist(s) |
| Breakfast at tiffanys | Deep blue something |
| 5,6,7,8 | Steps |
| All star | Smash mouth |
| All the small things | Blink182 |
| Bring it all back | S club 7 |
| Come on Eileen | Dexys Midnight runners |
| C'est la vie | Bewitched |
| Crashed the wedding | Busted |
| Changing | Sigma |
| Crazy in love | Beyonce |
| More than a feeling | Boston |
| Dancing in the moonlight | Toploader |
| Don't stop me now | Queen |
| Don't stop moving | S club 7 |
| Don't you want me | The human league |
| Eye of the tiger | Survivor |
| Fascination | Alphabeat |
| 5 colours in her hair | Mcfly |
| Footloose | Kenny Loggins |
| Get the party started | Pink |
| What I go to school for | Busted |
| Hey ya! | Outkast |
| High school never ends | Bowling for soup |
| Hips don't lie | Shakira |
| I believe in a thing called love | The darkness |
| Don't feel like dancing | Scissor sisters |
| I gotta feeling | Black eyed peas |
| I kissed a girl | Katy Perry |
| It's raining men | Gerri Haliwell |
| I'm gonna be (500 miles) | The proclaimers |
| I'm still standing | Elton John |
| Just cant get enough | Depeche mode |
| Karma chameleon | Culture club |
| Last night(beer fear) | Lucy Spraggan |
| Living on a prayer | Bon Jovi |
| Lifestyles of the rich and famous | Good Charlotte |
| Take on me | Aha! |
| Love machine | Girls aloud |
| Mr Brightside | The killers |
| Nothings gonna stop us now | Starship |
| Since you've been gone | Kelly Clarkson |
| Lose yourself | Eminem |
| Raise our glass | Pink |
| Rather be | Clean bandit and Jess Glynne |
| Reach | S club 7 |
| Shut up and dance | Walk the moon |
| Sugar, we're going down | Fallout boy |
| Teenage dirtbag | Wheatus |
| The final countdown | Europe |
| Wake me up before you go | Wham |
| We built this city | Starship |
| Easy love | Sigala |
| Hello | Adele |
| Fight song | Rachel Platten |
| Don't be so hard on yourself | Jess Glynne |
| Drag me down | One direction |
| Want to want me | Jason derulo |
| Cheerleader | Omi |
| Hold my hand | Jess Glynne |
| King | Years and years |
| Uptown funk | Mark ronson and Bruno mars |
| Changing | Paloma faith and sigma |
| Lovers on the sun | David Guetta and Sam Martin |
| Me and my broken heart | Rixton |
| Summer | Calvin Harris |
| You make my dreams | Daryl Hall and John Oates |
| Call me maybe | Carly Rae Jepsen |
| Party in the USA | Miley Cyrus |
| I really like you | Carley Rae Jepsen |
| Fast car | Jonas blue and Dakota |
| Never forget You | MNEK and zara Larsson |
| Still into you | Paramore |
| I just want you to know who I am | Kings of the orchard |
| Buck Rodgers | Feeder |
| SexyBack | Justin Timberlake |
| Dani California | Red Hot Chilli Peppers |
| Rich Girl | Gwen Stefani |
| Umbrella | Rihanna |
| Crank that | Soulja Boy |
| Gives you hell | All American Rejects |
| Hot n Cold | Katy Perry |
| Hey Soul sister | Train |
| Pumped up kicks | Foster the people |
| Steroe hearts | Gym Class heroes |
| Wild ones | Flo Rida ft Sia |
| Get lucky | Daft punk |
| Aint too cool | Lunchmoney Lewis |
| Worth it | 5th harmony |
| Runaway (U and I) | Galantis |
| Part of me | Katy Perry |
| Roar | Katy Perry |