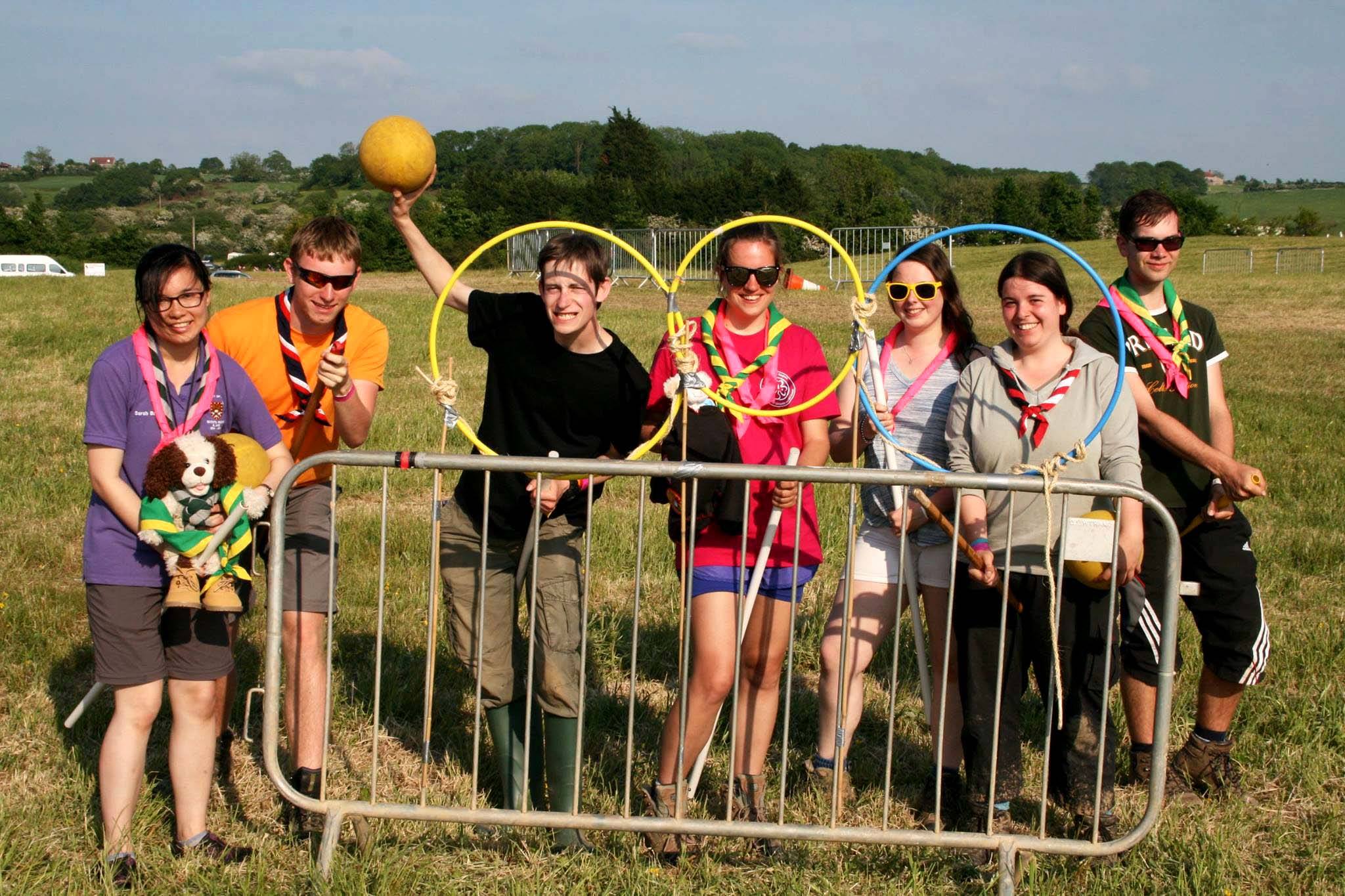 Jam-Packed-oree SSAGO's contribution to a fun filled weekend
Over the bank holiday weekend, 27th - 30th May, over 4000 young people from across all sections in both the Scouting and Guiding movements rocked up at the Gloucestershire Fisheries Showground for the quadrennial Avon Scout Jamboree. It was a jam-packed weekend full of a range of activities, from rock climbing, craft making, grass sledging and a bird show! Seven members of South West SSAGO clubs - including the Universities of Bristol, Exeter and the West of England - went along to run Quidditch in the Adventure Zone and promote SSAGO. We may have got quite exhausted running around being the Snitch, but we spent the evenings networking with local scout and guide leaders increasing the awareness and accessibility of our organisation.
Rocking up on site on the sunny Friday afternoon, we had high hopes for the exciting activities. That is, until the participants began to turn up, bringing thundery showers with them. Despite the rain, we were able to guide the participants to their sub-camps (even if they didn't all know where they live), and we had groups turning up from as far away as Devon and Liverpool. The evening improved, however, when we intercepted the catering staff after meal-time and managed to claim all of the leftover burgers (a theme that continued throughout the whole weekend).
Quidditch turned out to be a popular activity for people of all ages, with Beavers loving it as much as Explorers, although we found that only a couple of the Quidditchers over the weekend could perform any magic. The leaders particularly enjoyed the activity, because their Young People slept very well after running about all day. Brownies and Cubs, arguably, took the most away from the sessions, on realising that they are nearly old enough to receive their Hogwarts letters. Much sunburn was had across the weekend, however some relief came in the form of Cubs pouring water on us.
Lunchtime on day 3 brought excitement to all, when Bear Grylls - the Chief Scout, himself! - turned up in a helicopter. As part of Bear in the Air, he gave a speech and presented an award to a bold and adventurous Young Person, before jetting off to his next adventure. One of our members got particularly excited, when he found himself within reaching distance.

After the fourth day of Jamboree, with everyone having packed up, we had a closing ceremony with the Avon County Commissioner and a freestyle dance performance from the winner of Avon's Got Talent, before parting ways after a long weekend. Both SSAGO and all other participants enjoyed the weekend immensely - there were other members of SSAGO running errands for the event organisers, and some members spent the weekend with their groups - but no one worked harder than BUGS's very own Jodi Walsh, who deserves a special mention in our report, for co-ordinating the activities for the entire weekend, and without whom it would have been nowhere near as such a success. Well done Jodi, and we all look forward to the next one! #ASJ2020
Did you know! SSAGO also were at the 2004 event and ran the media side of the camp, writing up newsletters for each day.
Facteroid! We ran 62 matches of 5 a side, meaning we had 600 young people being taught how to play over the weekend.
If that was a long post: here's a picture of a catapillar!