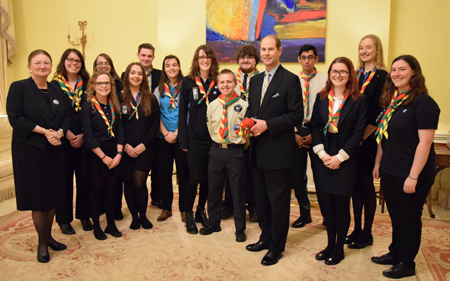 Bath University Guides and Scouts were invited to meet our Chancellor, HRH Prince Edward, the Earl of Wessex, in recognition of all the great voluntary work we do.
On Tuesday 6th December, several representatives for BUGS were invited to meet our Chancellor, Prince Edward, and Vice-Chancellor. This special reception was to celebrate all the great things BUGS have done for the local community, including helping with night hikes, Bath Rotary firework display and local camps such as Be Prepared, as well as the week-to-week volunteering.
Although one of the smallest societies at Bath, we are one of the most active, and it was an honour to be chosen to meet Prince Edward and discuss all the great things we do as a society, from travelling to national camps to running the national ball (hint hint!) to our weekly meetings.
We even told Prince Edward about mascot stealing, and as we posed for the photo, he held Wurzel proudly!