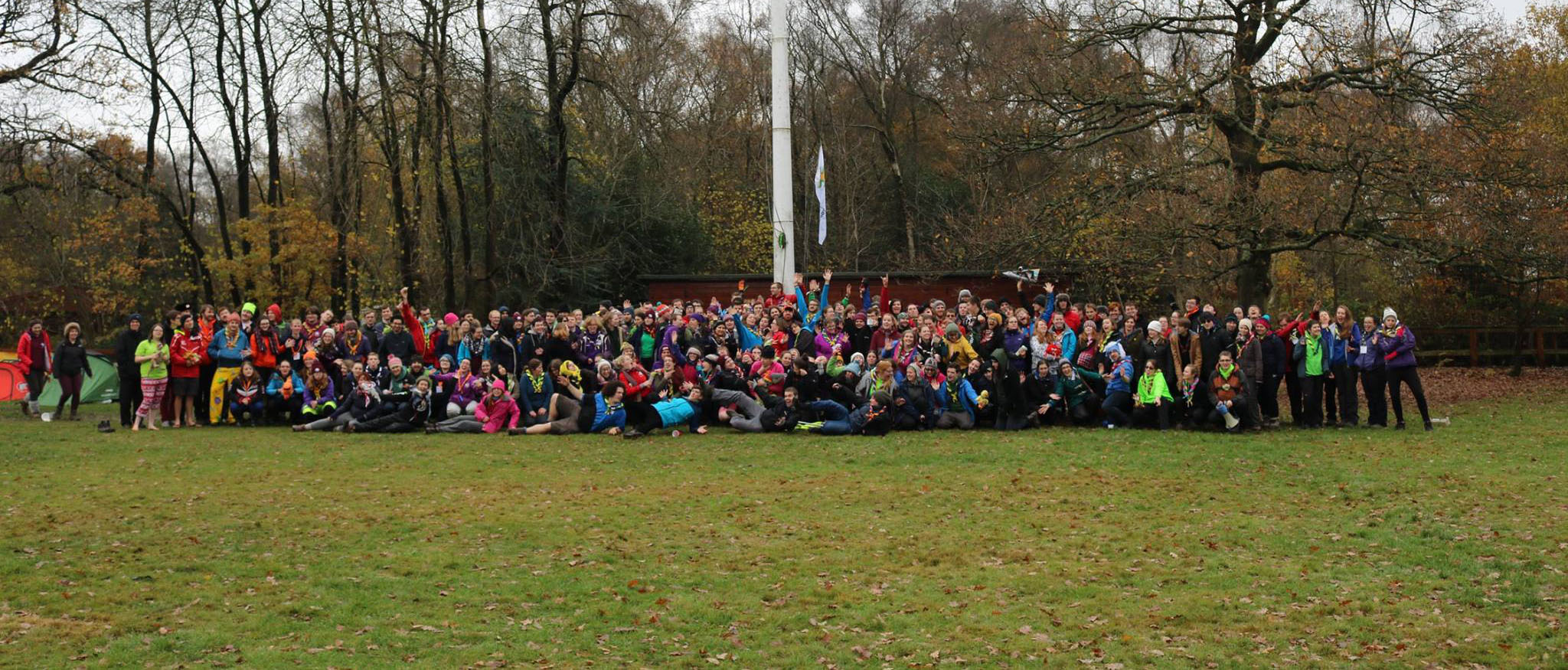 November Rally saw the associates take on the challenge of enabling SSAGO to boldly go where no SSAGO-er has gone before...to SPAAAACE!! After months of cross-continental planning meetings and the finalising of important decisions such as: sourcing enough hog roast to feed all the cadets, it was time for 250 members, from over 30 SSAGO clubs to descend on Rough Close campsite, for what can only be described as the most out of this world rally to date: Associate Space Rally!
Most people arrived after dark and registered at mission control, where they were issued with their cadet uniforms and mission patches before being sent out in to the night. Their first mission: to construct sleeping quarters on this new, icy cold planet on which they found themselves. An ordeal that was rewarded with a hearty beef stew and a roaring campfire.
After a good night's sleep the space cadets woke to a full cooked breakfast, including the very well received space toast (eggy bread) and perused the day's news in 'Guardian of the Galaxy'. It was rumoured that that evening there would be explosions that would be heard in the right ear, the left ear and the final frontier...
The cadets got enough energy on board to help them with their next missions: the afternoon activities!
National Space Centre
67 members set off early to enjoy a full action packed day at the National space centre in Leicester, where they saw a 42m high rocket tower and watched a show in the UK's largest planetarium!
Pottery Café
Some SSAGO space cadets opted for a leisurely afternoon at the pottery café, their day was complete when they encountered a real life astronaut right outside the café!!
Other missions
Other missions included kayaking, geocaching, a trip to Warwick Castle and visits to many local watering holes.
The rest of Rally
SSAGO reconvened at site that evening and prepared for an action-packed night ahead. Dinner was a hog roast with all the trimmings and was followed by the longstanding rally tradition of a ceilidh. It was then time for the moment we had all been waiting for, were the rumours true? What were these explosions everyone had been talking about? Alas, it wouldn't be an Associate Space Rally without fireworks, and everyone watched in awe as they heard the explosions in their left ear and their right...
Back inside we gathered for the judging of the fancy dress competition, which had some very impressive entries, notably one club were the International Space Station!
After a final sing song around an impressive campfire the space cadets headed to bed, and the command team prepared for another day of space in the morning.
Following a highly anticipated breakfast of space toast and accompaniments, cadets were encouraged to take on a series of team challenges. These included target practice (firing rockets through hoops), space hopper relay races, code breaking and constructing a scale model of the solar system, to name but a few. The winning team was Bath BUGS and they were awarded a bottle of golden syrup for their valiant effort. There were also a number of spectacular entries in the water rocket competition, however launch was cancelled due to a technical glitch in the launch apparatus (someone broke the foot pump!).
It was soon time to wrap up the weekend with an entertaining closing ceremony, at which the command team were presented with freeze-dried ice cream and the SSAGO secretary found herself stood in a bucket of cold left-over stew!!! All in all we had a fantastic weekend and it was a fitting way to say goodbye to some of SSAGO's oldest recruits. The associates were off to embark on their next mission: SAGGA.