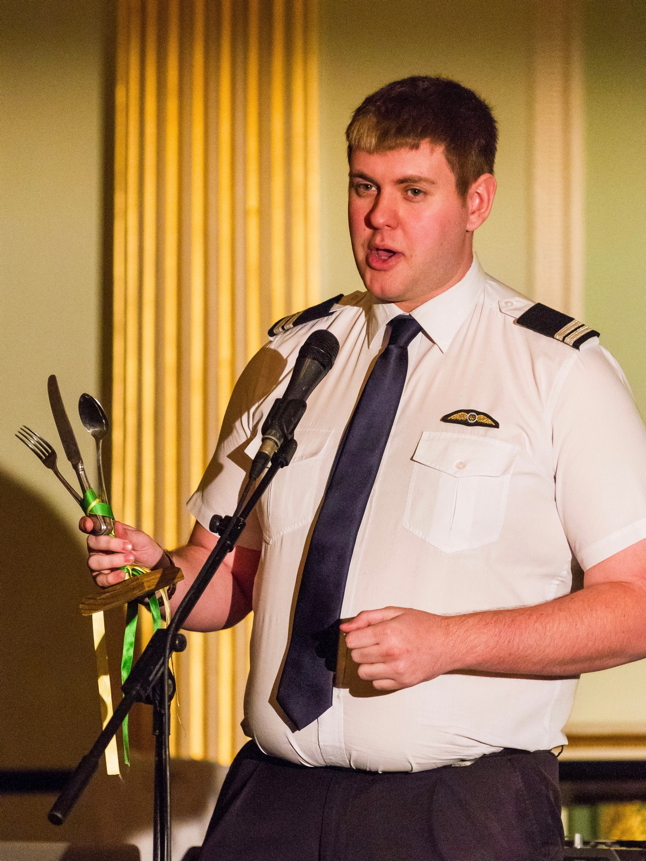 This year's national ball, hosted in Bath Guildhall, saw the cutlery cup being passed on to its new deserving owner. Created in 2007, the award is given to a current SSAGO member who has done a lot for SSAGO or Scouting and Guiding in their local community. This year, 8 members of SSAGO were nominated for this award for their fantastic work within their clubs. The winner was, of course, Dale Patrick, a dedicated member of both SSAGO and Scouting. Nominated by Ciara Billings, Dale has been a member of SSAGO for longer than he is probably willing to admit, and has been attending national events since way back in 2011 when he was part of the "Manchester goes to National Events" revival. Since then he has continued to encourage his club to attend rallies, most recently by buying a minibus to save Manchester money on transport!
Nationally, Dale is Quartermaster and has been revitalising the role for the last year. He can be spotted on rallies selling our merchandise from the back of his car boot and is brilliant at ensuring we always have stock of neckers, badges and merchandise for our members. Possibly Dale's biggest achievement on a national level is the recent creation of an online shop, thanks to help from webmaster Oli Bills, which will live on long after his time in SSAGO (if it ever does come to an end!). Dale's dedication to everything SSAGO-y is, put simply, impressive. It's safe to say that if you haven't heard of him and you've been around for more than a rally or two you probably need to get yourself down to his wheeler dealer car next time you're on a national event, get yourself a necker and say hello to one of our friendliest members!


When asked about the winning the award, in classic Dale style he commented; "It is a great honour to be recognised by SSAGO. I have had some great times, met great friends and thoroughly enjoyed myself. I am proud to be bringing the Cutlery Cup home.". Dale's friendly and unique character really shines through in everything he does, including his recent rally bid which heavily featured the amazing transport links the site would offer!


Of course, Dale is not the only member of SSAGO who deserved a mention. Many of our members are inspirational individuals who give up their time to not only improve their SSAGO clubs but also national events and scouting and guiding in their areas. Philip Chandler and Lizzie Hall, also from Manchester, were nominated for their efforts as joint chair of their club after reluctantly taking over the role. John Wyatt, Matt Bowden and Shona Allman joined Philip and Lizzie as runners up thanks to their efforts as the core organisational team of 'Kohoutek'; a cross-county Competition run by UOBGAS and SAGUWE for over 200 younger participants from Scouting and Guiding. The final two nominees were Daniel Mears, another dedicated oldie from SLUGS who has given up countless hours of his time for Scouting and his club, and myself. Maybe writing this article will put me closer to another nomination next year *wink wink*.
All in all, I think it is safe to say that SSAGO is made up of lots amazing people who regularly go above and beyond for a number of organisations. Well done to everyone who was nominated, you are all amazing people, and of course, well done to Dale and thank you for all you do. Don't forget that the Cutlery Cup is awarded annually so keep an eye out for any exceptional members who might deserve a nomination next year!
Previous Winners
| Year | Name | Club |
| --- | --- | --- |
| 2015 | Katrina Reynolds | Bath |
| 2014 | Oliver Bills | Southampton |
| 2012 | James Waterworth | Loughborough |
| 2009 | Jennifer Willott | Aberystwyth |
| 2008 | William Carr | Manchester |
| 2007 | Mark Glendinning | Cardiff |
Bonus amusing photo!