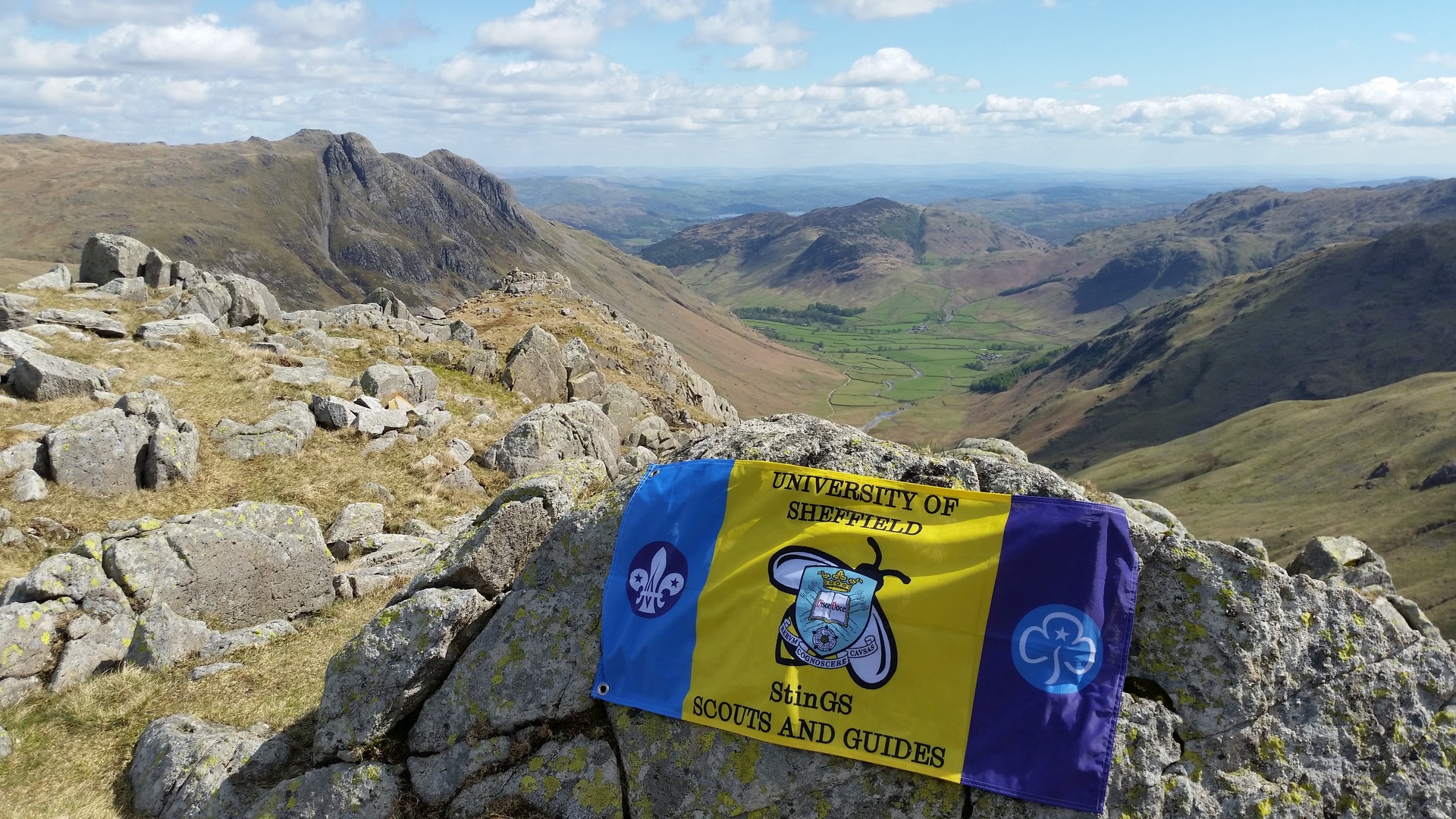 StinGS organised a weekend of walking and scrambling in the Lake District for both Sheffield SSAGO clubs. They spent a weekend camping at Scout Adventures Great Tower Scout while walking and scrambling in the near by Langdale Valley.
On the Friday after Easter StinGS and HUGS headed north to escape the misery of their local peat bogs and enjoy the dizzying heights of the Lakeland fells. Joanna immediately expressed her dissatisfaction at the lack of 4,000m peaks; mean while the southern members or the party discussed the ethics surrounding the use of altitude tents.
While pitching tents they found that the poles for the stores tent had been left behind. It transpired that everyone except Cameron, who had packed it, knew that they weren't stored in the bag. The engineering students had an excellent time improvising a stores shelter with the flysheet. Tea consisted of bolognese with Cameron's finest " macaroni cheese" pasta cooked on the new petrol stove. washing up then discovered another of Cameron's errors: there was no washing up liquid. For his sins, Cameron was sent to beg some off a near by scout troop.
Saturday morning dawned bright and fair and the two clubs drove over to the Langdale valley for their day of walking. They split into three groups. The hard walk, led by James, headed up the valley to Angle Tarn and back. The easy walk, led by Joanna, ambled round Lingmoor fell. The scramble, led by Cameron and Andrew, headed up to Pavey Ark to tackle Jack's Rake before doing a rope skills session on the nearby slopes. All walkers had a great day with the easy walk only being chased out of one field by a farmer on a quad bike. Saturday evening was a relaxed affair with a barbecue (plenty of peppers were available for the vegans) and campfire.
Sunday dawned another beautiful day; two consecutive days of sunshine in the Lake district must be a once in a lifetime experience. The hard walk, led by Iain, went over to Eskdale and back. The easy walk, led by Hannah, did a gentle stroll around the valley before very rapidly going to the pub. Andrew and Cameron lead the same scramble for a different group. The hard walk caused a bit of tension by delaying the departure of the minibus by returning late from their walk. Iain blamed the 1987 map, given to him by Cameron, for a navigational error he made. Some people began to question why they had even brought Cameron for the weekend.
All tension disappeared on the drive back to Sheffield when Iain entertained the minibus with a short lecture on gravely sand and BSI soil classifications. Upon completion of what was a most lecture, greatly enjoyed by all, a sing along ensued, lasting until we arrived back in the land of Henderson's relish.