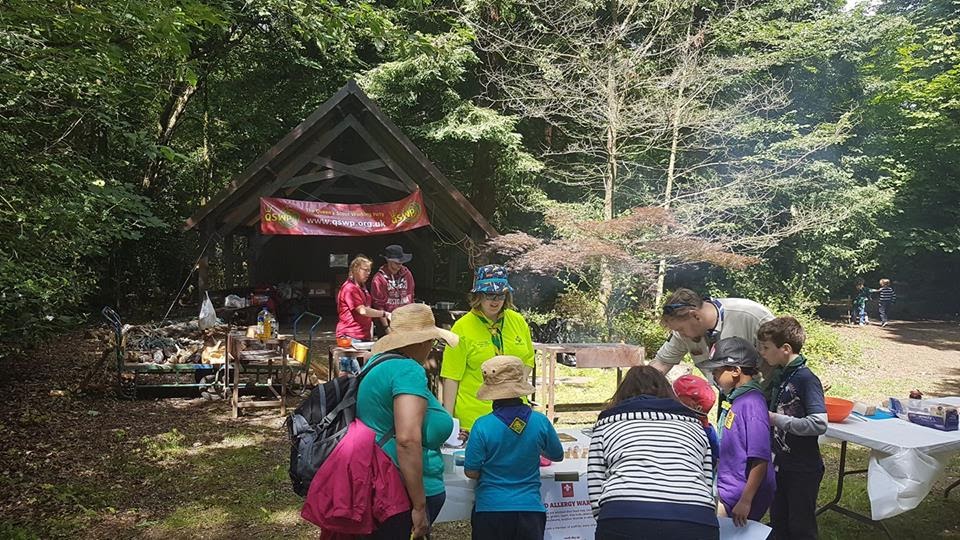 Not only were SSAGO at Woodhouse Park Fundays this weekend, but we were also at Gilwell park running Backwoods cooking and Astronaut food tasting...
Over the weekend of 9-11th June a small group of SSAGO'ers went to Gilwell Park in London to volunteer at the Scout Adventures Fundays. As a group we were tasked with running the Astronaut food tasting and camp donut making. It was an early start on the Saturday morning trying to get everything ready for the activity and moving it to our area, followed by a minor panic with half the cooking equipment being stuck in London due to problems with public transport.
Once everyone was onsite, the stall was quickly set up and the alter fires lit. Initially there were only dribs and drabs of people coming to the stall, most likely due to being tucked away in not a particularly visible area. But as the day went on we ended up with a steady stream of people coming through, with one team helping make and frying the donuts and the other running the food tasting of dried astronaut style food. The day soon came to an end and after dinner we went for a wander round the site to have a look at all the other activities that were going on and watch the sunset over London.
Sunday was much the same, but the numbers of people who visited the activity appeared a little lower. The whole site was quiet by Sunday afternoon, this tied with running out of batter mixture, meant we started to pack up at about 3:45. After a quick tidy up it was time say goodbye and make our journeys home.
Overall it was a great weekend, with all the Beavers, Cubs, Rainbows and Brownies that visited enjoyed the activity, along with many of their leaders. The only thing that no one was particularly keen of was the dehydrated Onion!
After using 12 jars of jam, 20 loaves of bread and 6 litres of oil over the weekend, I'll be glad if I don't have to make any camp donuts for some time! If you get the chance, I would thoroughly recommend getting involved and helping in events like this, they're great fun!
A few thanks now to; Anona Mann, Joshua Smith, Emma Crickmore and Thomas Webster for helping with the activity. This activity was not solely run by SSAGO, but in collaboration with QSWP (Queen Scout Working Party, an active support unit for those who have completed their Queens Scout Award). Our thanks to Rebecca Bentley from QSWP for sorting most of the logistics for the event and helping with the activity.