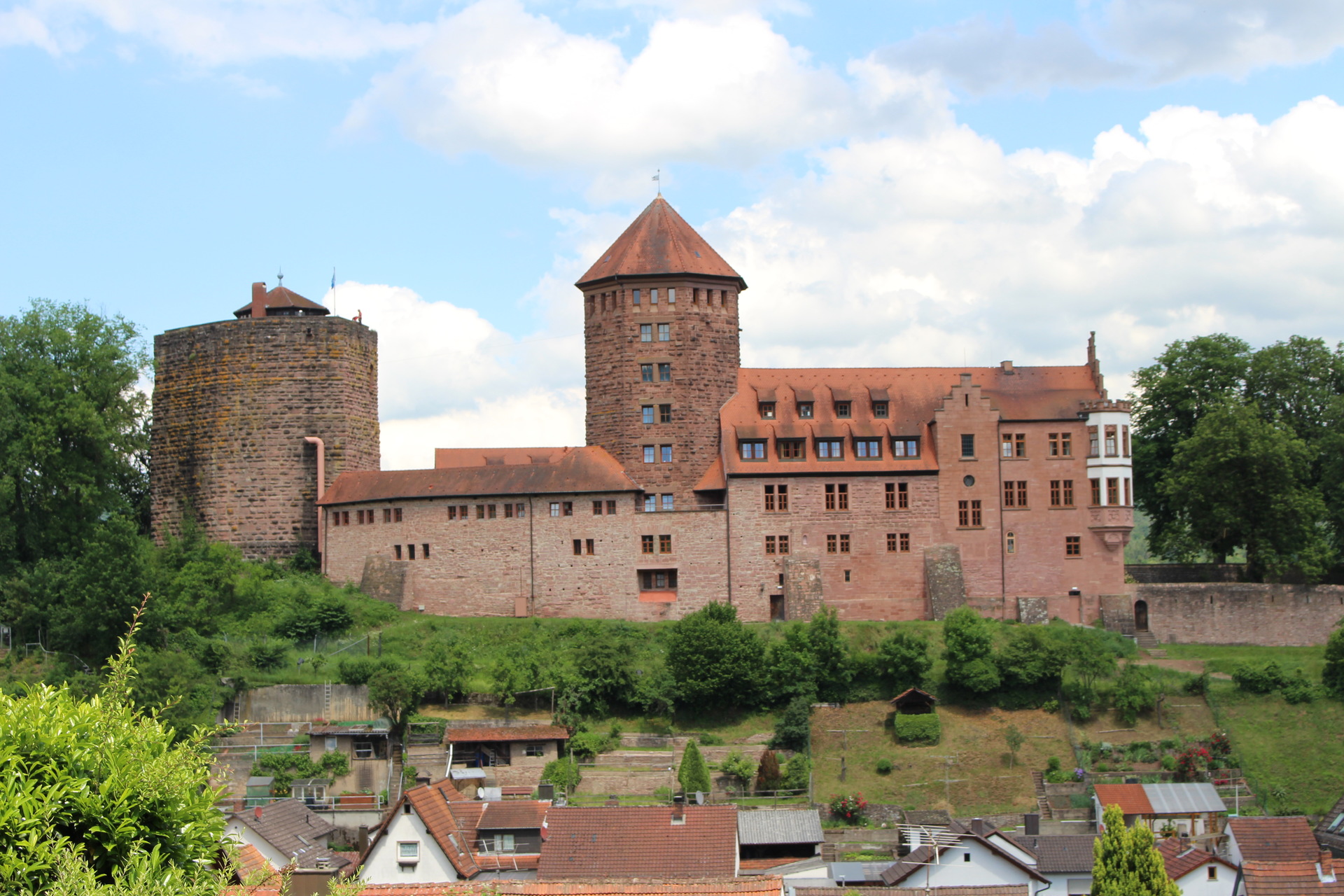 Did you know that there's a Guide and Scout Castle? Keele SSAGO visited Burg Rieneck, the home of the German VCP Christian Scout and Guide Movement, for a week of medieval adventure.
Keele SSAGO's first international trip to Switzerland was so great that we HAD to go for another adventure! It was a unique trip as we all got to stay in Burg Rieneck – a Guiding & Scouting Castle in Germany! On 12th June, 19 excited Keele SSAGO members travelled to Manchester Airport, where we departed for our flight to Frankfurt. After many train delays and an unplanned midnight taxi journey, we finally made it to Burg Rieneck in the early hours of the morning.
On our second day, we woke up early for breakfast, filled with a variety of bread, cheese and ham selections. Following breakfast, we all queued up by the Kiosk for our first set of merch haul, which obviously included badges and neckers. We then abseiled 20m down the castle tower, where we had amazing views of Rieneck. After lunch, we explored Rieneck by completing the Castle Trail and then relaxed in town. Following dinner, we listened to historical stories and songs of Kunigunde, delivered by our guide, Rica.
On the third day, we canoed 20km to Gemünster. We worked together as a megaboat to paddle together, with occasional jumps off rope swings and a few capsizes. We had a break with a packed lunch which included our new favourite German boxed iced tea. 20km later, we celebrated our victories as we returned our canoes. Then we walked to the nearest high street, where we had a quick wander before catching a bus back to the castle. When we made it back to the castle, we had a warm dinner and then relaxed with a wellness oasis, consisting of face masks, fairy lights, and colouring.
On the fourth day, we visited the nearby city of Wurzburg. Here, we explored the market square, walked over Alte Mainbrücke (Old Bridge) to Fürstengarten Marienberg, which provided extremely gorgeous views of the city. After a quick stop for ice cream, we made our way to the Wurzburg Residence, an 18th-century palace which was partially destroyed and then rebuilt after WW2. Our tour guide shared many stories of the building's history, including the extensive details of the interior designs. In the residence's gardens, we met a Girl Scout from the USA, who volunteered to capture one of our many group photos. After returning to Burg Rieneck, we had a lovely German sausage BBQ and campfire.
Day 5 was a "recovery" day, where we stayed at the castle and completed team building activities such as the Human Knot and Da Vinci bridge. Following lunch, some members visited a nearby park & river for a quick play and swim, respectively. After dinner at the castle, we had our very own disco night, consisting of homemade cocktails and our unique Spotify playlist, which inevitably included the Vengaboys.
On our sixth (and warmest) day, we had to say goodbye to our castle as we headed to our hotel in Frankfurt. After checking in, we explored more tourist attractions such as Eiserner Steg and Römerberg. In between exploring the city, we bought souvenirs and visited the Beer Garden for local apfelwein. We had dinner at Ernst Mutter and tried classic German dishes such as Bratwursts and Frankfurters with potato salad. After dinner, we all treated ourselves to ice cream before heading up to the Maintower, where we went 54 floors up (luckily, we had a lift!). To end our trip, we had lovely cocktails at Chicago's, an American bar and grill.
On our final day, we got up early for breakfast before heading off to buy last minute souvenirs and then catching our train to Frankfurt Airport. It was another successful trip for Keele SSAGO. Shoutout to our amazing committee for planning such an amazing trip - thank you Reuben, Georgina, Charlotte and Ed! Now the big question remains…where will we be visiting next year?