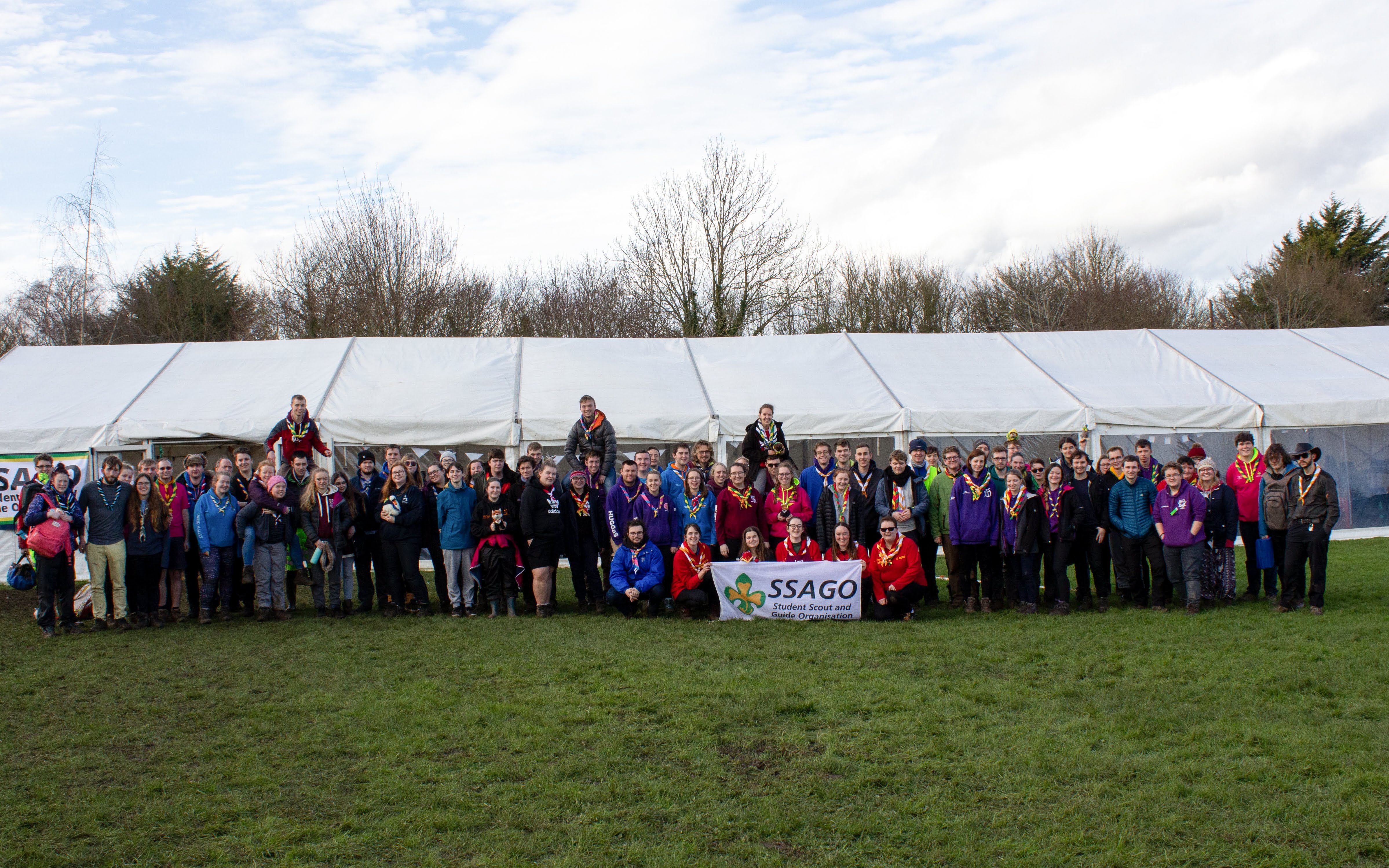 The Roman SSAGO empire has finally returned to Rome Bath after it lay in ruins for 25 years. As Rome wasn't built in a day, the Senate (committee), along with some helpers, worked tirelessly to build up a weekend filled to the maximus for its legionaries (consisting of 295 gladiators from 39 clubs)!
Friday XXI.II.MMXX
The SSAGO army marched from far and wide, some even crossed seas to reach the empire land, Briarlands Activity Centre in Bitton.
The committed gladiators were greeted at reception complete with columns, vines and themed bunting. The Senate had tried to think of everything – quiet camping areas, a large themed marquee complete with wooden flooring, fairy lighting and heating, hot food until 2am, entertainment and golden table wine bottles!
Once the armies had collected their limited-edition merch – ranging from neckers, to 'Dine like a Roman' tent flags, to a selection of our badges on offer (we promised you 2 in our bid but delivered 6!) – and set up camp, the weekend was underway
The veggie Roman stew with rolls and choc ices to follow went down a treat – ignoring the Rally Treasurers complaints it was too spicy (it wasn't). Once the armies stomach was sedated, it was their minds that needed occupying! Some chose to catch up with friends from afar, whilst others joined our pub quiz!
Saturday XXII.II.MMXX
Slowly but surely the gladiators arose to the smells of veggie and non-veggie bacon and sausage rolls – some even had them delivered to their beds by Bath BUGS willing freshers to complete the Roman experience. Once the opening ceremony was finished, the armies set out on their march (sorry!) to the coaches which would get them to the beautiful Roman city of Bath in under 20 minutes!
The legionaries had the option of many morning activities – gone are the days when it's either one activity or a morning off. The legionaries could choose whatever suited their fancy – a monopoly run to see the sights (complete with a badge), a coffee crawl to get them through the morning, the first ever official SSAGO Morning Spoons, a morning hike from camp to town for those who fancied a hike as well as an afternoon activity.
Some SSAGOers even opted for a morning lie in on site after a long night before joining us for lunch in town! 24 SSAGOers opted to explore Cheddar Gorge on an all-day hike .
The rest of SSAGO crammed into Grove Street Scout HQ in the centre of Bath for lunch – with the Senate offering hot drinks to combat the cold weather! Then onto the afternoon activities; including the Roman Baths, a skyline walk, board game café, a visit to bath city farm, some headed to the Thermae Bath Spa, 2 pub crawls, the Jane Austen Centre, adventure golf, a brewery tour, a photography and sightseeing tour, bowling, trampolining, a visit to the fashion museum, a tour of the Bath Abbey Tower Tour, a hike to Baths very own aqueduct and even a detective tour!
The SSAGO army returned to site and were served fajitas on arrival (with all the trimmings!) and the marquee – otherwise known as the Forum – was alive once more. Reps even got to take their pudding (Swiss roll and custard) in with them to make the meeting more bearable! Those not suffering a fate worse than death (sorry exec, reps are long!), got to enjoy a ceilidh – with the additional challenge of doing it in their togas!
Thanks to Owen from UOBGAS and the previous craft weekend, there was even a photobooth in the marquee – with props and themed backdrop (think chariots, shields, swords, helmets and so on)
After the ceilidh, a rally wouldn't be complete without a costume competition! Congratulation to our winner! For those less keen on a ceilidh, a film showing of the Life of Brian and a campfire provided an alternative way to spend their evening. Finally, to round of the evening, the marquee was transformed into the club of all clubs for a silent disco. To quote Thomas William: 'Bath, sod a ceilidh, you've smashed it with the silent disco'.
And whilst the committee finally headed to bed around 3am, some SSAGOers were heading back to their tents to find their abode wasn't left quite how they imagined. Luckily, they found refuge in Brooks Lodge!
Sunday XXIII.II.MMXX
Sunday morning rolled around far too soon, and staff were awoken to shouts from our food team that our beloved mess tent was about to be blown into the paella pan fire. Thanks to passing SSAGOers and staff who shot out of bed, we managed to hold down the mess tent long enough for all the bacon to be cooked for breakfast! Later, when taking the mess tent back to stores, our quartermaster wondered why the tent smelled strongly of bacon, now he knows! Wouldn't be a Bath rally without fly away tents, right?
Despite this chaos, breakfast was served only 20 minutes late and the closing ceremony commenced with many thank yous and finished with far fewer mascots being stolen than at Birmingham rally thankfully! As a final bid for the Gadaffy Plate and to be crowned the overall emperors of the weekend, PUGS were challenged by Lancaster to eat all the leftover food from the weekend – a combination of chocolate pudding, stew, custard, coffee, beans, guacamole (and more) – but PUGS forfeited as they couldn't quite stomach it after the previous night's events!
Finally, the weekend ended with an AGM that felt like it had no end and golden coins being distributed amongst those trying to escape the meeting! The weekend was so packed, we even forgot to take the standard SSAGO picture!
Congratulations to all those elected and the upcoming events in 2020/21 – turns out the Roman Rally Committee quite like organising things as half of them have been elected onto exec!