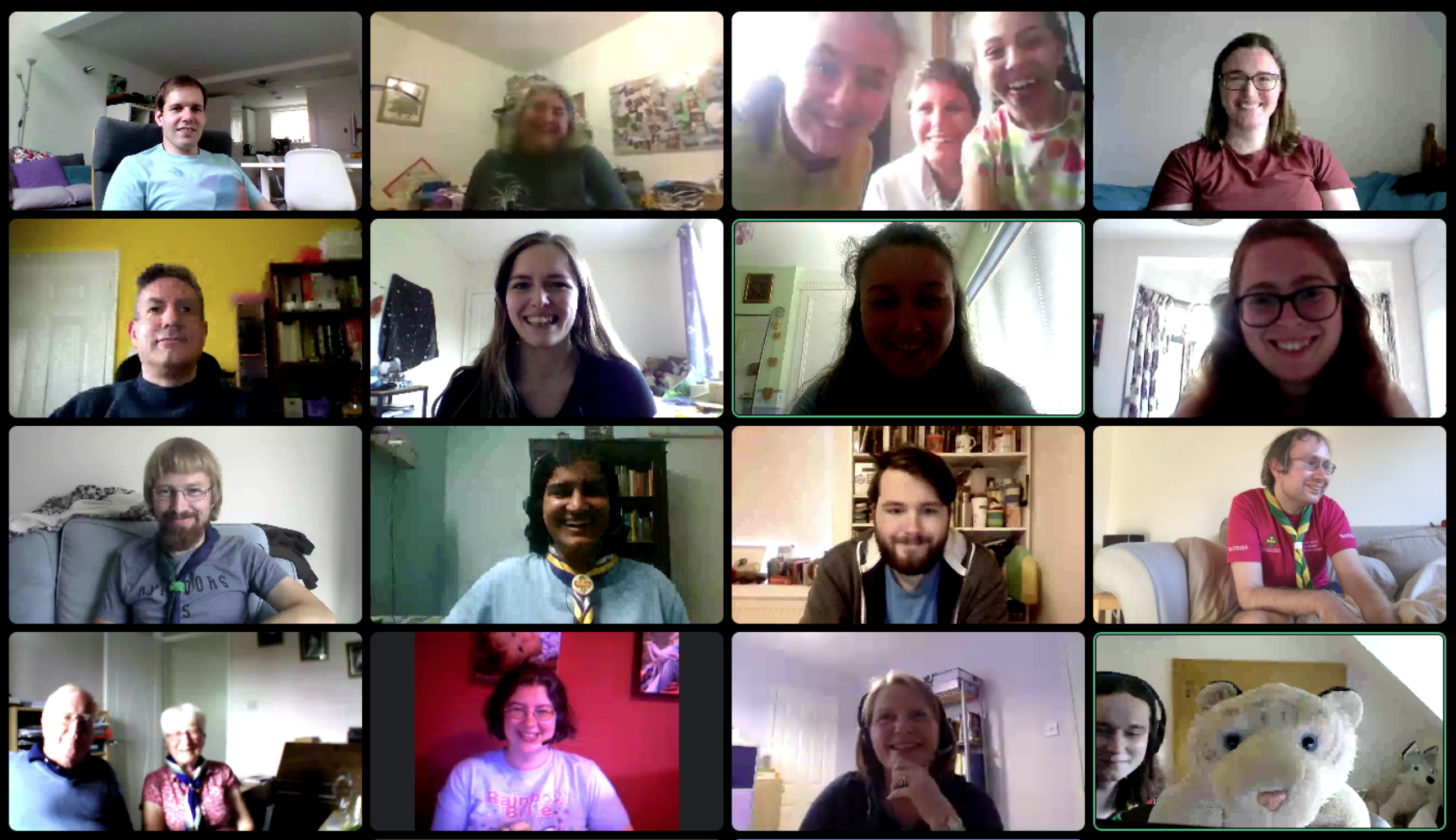 On the weekend of 17th-19th of July 2020, Alternative Rally, the traditional chance for graduating SSAGO members to join new and old SAGGA members with a weekend packed of Rally activities, moved virtual on to the SAGGA Discord!
Starting with an opening ceremony followed by a fancy dress version of 'Guess Who' hosted by Heather (involving silly hats, of course!) the evening led into a Murder Mystery hosted by Emily (with cocktails) to take everyone on a trip to the Killingsworth grape and wine farm to determine who killed Elizabeth Killingsworth - the answer: one of them! The evening of course finished with a campfire and some shared stargazing as people gradually drifted off to sleep - some in their tents, some in their dens, some braving their hammocks, others opting for the 'indoor accommodation' option.
For some, it was an early start with Taskmaster first thing the next morning. Wilko, Lorna, Lexie, Katey, Elli, Nathan, Conni, Naomi and Linda decided to brave the ridiculous challenges set by Oli, the Taskmasters aide. In addition to running round their houses like a lunatic (but with a necker on, so it's fine), challenges included making chain reactions, constructing Scouty limericks (what's a limerick!), discovering their ability to throw things was much less than their expectations, spinning round blindfolded and dressing up as Scouty or Guidey as they could to the point where movement may have been inhibited.
Others took to the craft corner to show off their arts and crafts prowess. Woggle making, crocheting, origami, felt ornaments, badge bags and even some adorable animals were shown off as everyone showed off their work or admired/envied everyone else's creations!
After lunch in the virtual mess tent, Kara-Jane hosted her renowned Agatha Christie inspired escape room. Both teams managed to escape, with SAGGA South beating the SAGGA Nomads by 39 minutes to 48 (no surprises there, given SAGGA South's competitive record). The South West were due to try later, maybe they'll be able to steal the record?
As the weekend progressed, people joined in with the Rally Badge Design competition, the SAGGA bake off and putting their baking skills to the test or enjoying video games in the video game tournament hosted by Alex or board games in the board game cafe.
In the evening saw SAGGA persuaded SSAGO members to join the most persuasive way: With SAGGA Pimms! Everyone had a great time mixing between rooms, getting to talk, swap stories and laugh at how age and time doesn't make a difference to the spirit of Scouting and Guiding!
After the obligatory group photo and dinner, Lorna the quiz Guru had an exciting quiz to run - featuring general knowledge (including what a River Horse is - it's a Hippo!), County emojis, Where am I, TV mishaps, guessing the product from a Waitrose description, South West trivia (Hint: Lorna is from South West SAGGA) and of course a SAGGA favourite - guess the cheese! All the effort by the teams came to no avail however - with a three-way draw!
After that, we did some cocktail and mocktail mixing and some recipe sharing of the best (and the worst) accompanied by a bedtime BYOB (Bring your Own Brie) and a game Werewolf!
With some morning Park Run, a Scavenger hunt and the closing ceremony, the weekend came to a close on Sunday, with the finished live episode of Taskmaster featuring in the evening for everyone to collapse to at the end of camp, hosted by Lloyd as the Taskmaster to watch the ridiculous attempts of the Rally-goers edited to the most humiliating parts, of course!
Fun was had by all, with Katey, a newcomer to SAGGA saying "Alternative Rally was great, I liked that you could dip in and out with what was convenient for you and with what you fancied. An excellent intro to SAGGA and I'm looking forward to joining once I've got the next steps in my life sorted out! The Meet SAGGA session really made the camps sound fantastic and I can't wait to wave Covid goodbye and have some more adventures.". Meanwhile, Paul Haigh, ex-SAGGA president, had this to say "I did indeed 'attend' the Alternative Rally. I had only attended one before (as the guest speaker) but since I've been around for a while and had attended the 40th and 50th reunions I thought it would be appropriate. With help from within the virtual marquee, I managed to get my PC set up correctly (I am more familiar with ZOOM than Discord) and took part in a couple of coffee sessions, enjoying the general chatter from far and wide."
A big thank you to Heather, James, Kara-Jane, Lorna, Heather, Emily, Alex and Oli for their work in planning and running the event and to all of SSAGO and SAGGA who came along and made it such a wonderful weekend!