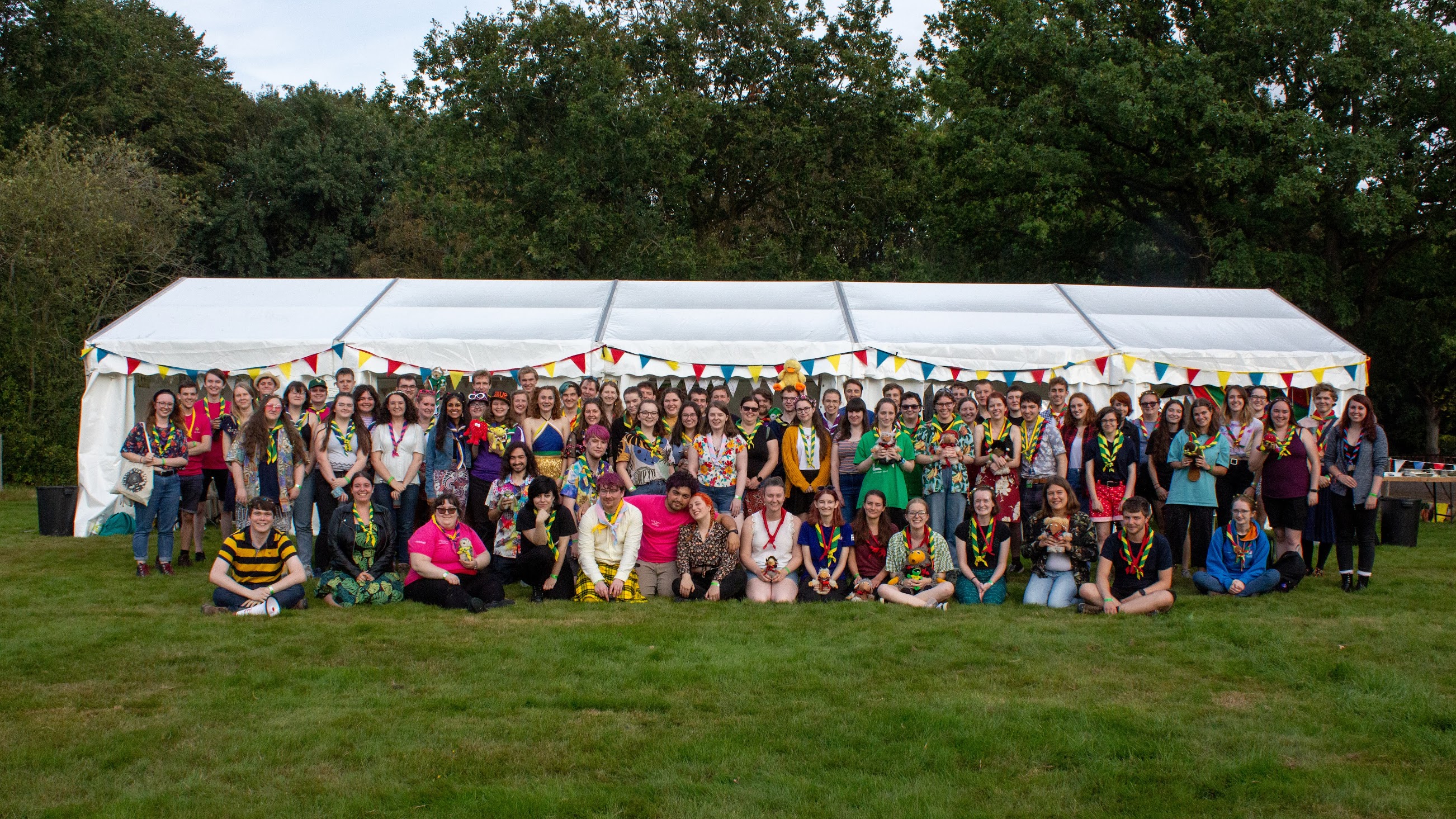 After an 18 month hiatus, SSAGO was back for an in-person national event. Though it wasn't what everyone was expecting after the bid at Roman Rally in 2020, the WomBall committee spent meeting after meeting adapting and rethinking the event to bring it to life. 
As SSAGO members old and new began to trickle into Rough Close campsite on Friday, the familiar feel of a SSAGO event was back. Whether walking from Tile Hill station following the snazzy Womble covered signs or driving in from far and wide, staff were kept busy signing everyone in and giving out our exclusive event wristbands.
Whilst some pitched up and settled in for the evening, many SSAGOers were enjoying off-site Friday night activities in and around Birmingham! With pub night, Mr Mulligan's golf, movie night and cocktail night all on offer there was fun to be had for all. Those who came back before the night owls joined everyone on-site around the campfire. The Amalgam team made a fire anyone would have loved to be around (even if we did lose a frog to it, midnight snack anyone?).
As some slept off the effects of Friday night, others were up bright and early for a walk around the Lickey Hills. A favourite of BUSAG, it was a lovely opportunity to share a local spot with others in SSAGO. Others went to the Birmingham Botanical Gardens for a relaxed morning surrounded by greenery. Behind the scenes, the WomBall staff team was assembled and the time had come for the final sprint to be ready for the opening of WomBall.
At 1pm WomBall was ready! Event registration opened and everyone received their badges and custom WomBall cups. We had WomBall, site and BUSAG badges on offer, plenty to satisfy the badge fanatics of SSAGO.
On the field there was lots to do! Carnival games were spread across the field for everyone to test their skills. You could see Rally of Games for Lemon Jousting, try your hand at hook a duck or embrace your inner golfer along with many more games with the opportunity to win big (if you consider a hug with Scarface big).
Once we were settled in for the afternoon it was time for a quiz and sports day! We started off quizzing in the marquee, organised by the newest BUASGers on our staff team. After some controversy about quiz answers, nothing new of course, we moved outside again for the best ever SSAGO sports day. Featuring an egg and spoon race, relay races, a three legged race and even a wheelbarrow race, SSAGO for Paris 2024?
Now it was time to refuel and what could be better than a BBQ! Our cracking team had prepared a spread of burgers, salad, potato salad and couscous. SSAGO was finally quiet(er) as we settled into food.
After some more time playing the outdoor games, catching up with SSAGO pals and enjoying the bar it was time for the closing ceremony. Thank-yous were given as 4 unfortunate team pink members readied themselves for a SSAGO classic...a gunging! Our chair, treasurer, secretary and webmaster were all lined up ready to be hit with matching pink gunge. We're not sure who had it worse, those being gunged or everyone else seeing Tom in the yellow morph suit. SSAGOers then began to start their journeys home or headed to the campfire for the evening.
To wash away the post ball blues we headed back into Birmingham for a traditional Spoons breakfast on Sunday morning. We had some good breakfast before saying our final goodbyes, not before breakfast was split on a Womble however. WomBall had come to a close with many happy SSAGOers on their way home.
WomBall committee (and the Wombles) would like to thank everyone who came to the weekend and helped start in-person SSAGO off with a bang. We look forward to seeing everyone at SSAGO events to come.
Photo credit: Alex Moore, Katherine Shaw, Oliver Bills, Larah Korrison, Georgia Mantle, Tim Rodaway, Leon Brindley, Riley Prydderch