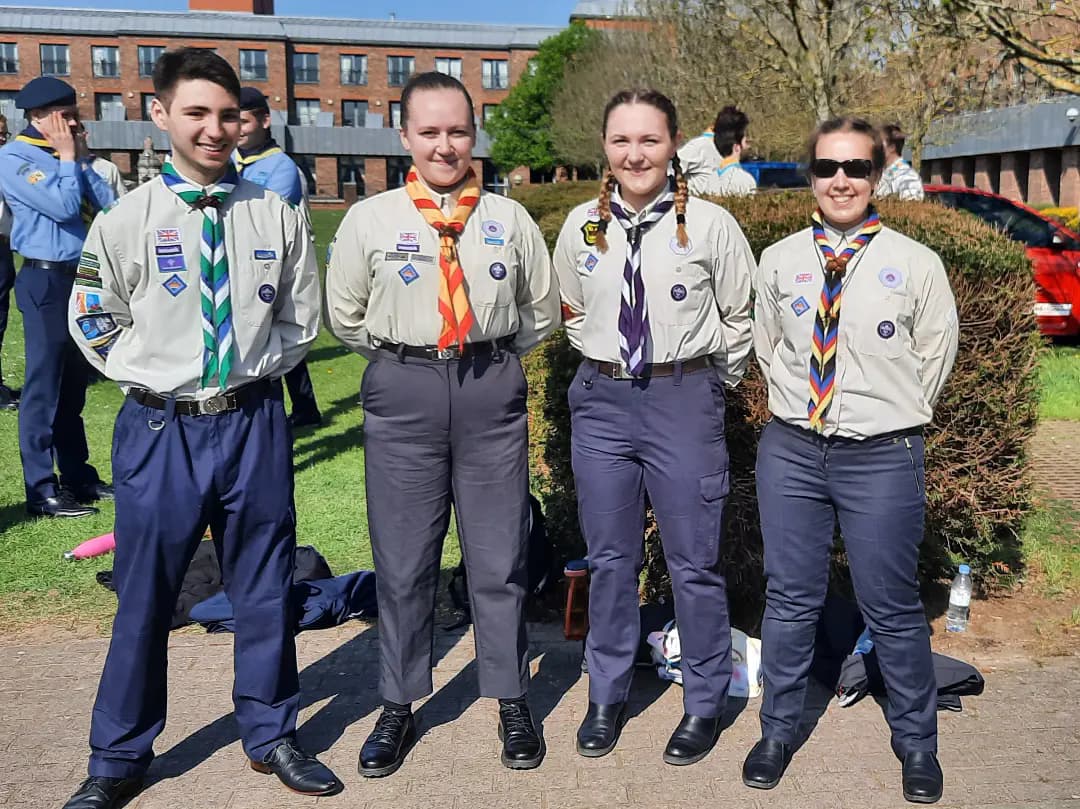 Some SSAGO Members attended the National Windsor Day of Celebration on April 24th, 2022 to achieve their Queen's Scout Award. It has been a long-awaited event where they started the morning learning how to March and the afternoon in a parade in the Quadrangle in Windsor Castle before a service in St George's Chapel.
On 24th April Chief Scout Bear Grylls honoured nearly 350 Scouts from all around the country with their Queen's Scout awards.
They were presented with the award at Windsor Castle and joined by Scout Ambassadors, in front of family and friends in what was a fantastic celebration of achievement.
The Queen's Scout Award is the highest honour in Scouting and is awarded for outstanding personal achievement.
This honour is achieved by young people aged between 16 and 25 who have completed a range of challenges, which includes service to their community, completing an expedition in wild country, undertaking a five-day residential project in a new environment, developing an existing talent or learning some new skills to build on what they have already learnt in the Scouts.
Here are some SSAGO members' experiences of the day:
We started off the day with learning how to march in Victoria Barracks. We had to split into groups based on where we were from before learning the basic techniques. This was made really enjoyable by the Section Leaders. After lunch we then moved over to Windsor Castle for the parade in the afternoon. We marched into the Quadrangle and stood in our sections while the Lord Lieutenant, Bear Grills and Tim Peak along with the parade leaders came round and congratulated all the Queen's Scouts that were on parade. After this was complete, we marched down to St George's Chapel for a service which was all about our achievements and 'unlocking our potential' before marching out of the gates of the castle and onto the street before marching back into the castle for the final time.
I had a lovely day and really enjoyed the whole event. It really felt that after so long we were finally being rewarded with what was a once in a lifetime opportunity. The Queen's Scout Award takes a lot of dedication and hard work. It is the highest award in scouting and is meant to challenge you and mine certainly did that! My favourite part of the day was when we marched into the Quadrangle in Windsor Castle. When this happened, I felt pride and honoured to be there. Scouts are the only uniformed organisation that Her Majesty the Queen allows to march and parade at the Quadrangle, and this is a true honour that only a few have ever done. This day will always hold a very special place in memory and will be one I will never forget!
Isaac Hooper – Birmingham
Having completed my Queen's Scout Award in 2019, I was thrilled to finally be able to attend Windsor, after 2020 ceremony was cancelled. On the morning of the celebration and parade I was up at 05:50 to get ready, wake my parents up and have some breakfast. I then got in the taxi to Victoria Barracks where I was met by the Scouts media team and given a short brief before speaking live on air on BBC Radio Norfolk for 7 minutes, talking Scouting and Queen's Scout Award! This was a huge achievement in itself and I'm proud of myself for doing so. The morning included lessons on how to 'walk with style', group photos in our counties and a talk by Bear Grylls.
After a short lunch break to reconvene with parents, QSA holders congregated and began the parade to the quadrangle where our guests watched. Here there was a lot of standing, listening to the brass bands and talking to Scouts representatives - I enjoyed speaking to Tim Peake and Carl Hankinson. Next was the service in St George's chapel and a final parade in front of our guests. My favourite part of the day was getting to meet other Queen's Scouts throughout the day, to talk about our Scouting experiences.
Ruth Adamson – Associate
For me, the Windsor Parade was one of the best experiences I've had in Scouting. I had been waiting for this parade since 2019 due to the pandemic, and I was so excited to finally finish my Queen Scout journey at the Castle. Although it was quite an early morning start, it was well worth it to get into Windsor early and have a wander round the town before joining the lengthy queue of Queen's Scouts waiting to get into the Barracks. We then kicked off the morning with a lot of marching practice, chatting with our sections, and meeting other SSAGO members. We even managed to get a quick photo in before we heard from Bear Grylls about 'Scouting veneers'?... After trying to wrap my head around what he meant by that, I headed off for a quick lunch break in a local park and then walked back to the Pug Yard to start the parade. The parade itself was amazing, from the Scout Band playing YMCA and Mambo No.5, to meeting Bear Grylls and finally to parading in front of my family and Explorer leaders. The whole experience was just incredible and well worth getting your Queen's Scout for!
Sophie de Naeyer – Leeds
This weekend I was lucky enough to go to Windsor Castle to celebrate my queen scout award. The day was really memorable, it was in an amazing setting. The event allowed me to celebrate with those from around the country who also achieved this award. It gave me the chance to reflect on my journey and challenges faced that I had to overcome to achieve it. I was fortunate enough to meet the guest speaker Major Tim Peake!
Hannah Beckett – Nottingham
---
If you would like to know more about the highest awards in both Scouting and Guiding please see the links below:
Queen's Scout Award: https://www.scouts.org.uk/top-awards/queen-s-scout-award
Queen's Guide Award: https://www.girlguiding.org.uk/what-we-do/our-badges-and-activities/badge-finder/queens-guide-award/