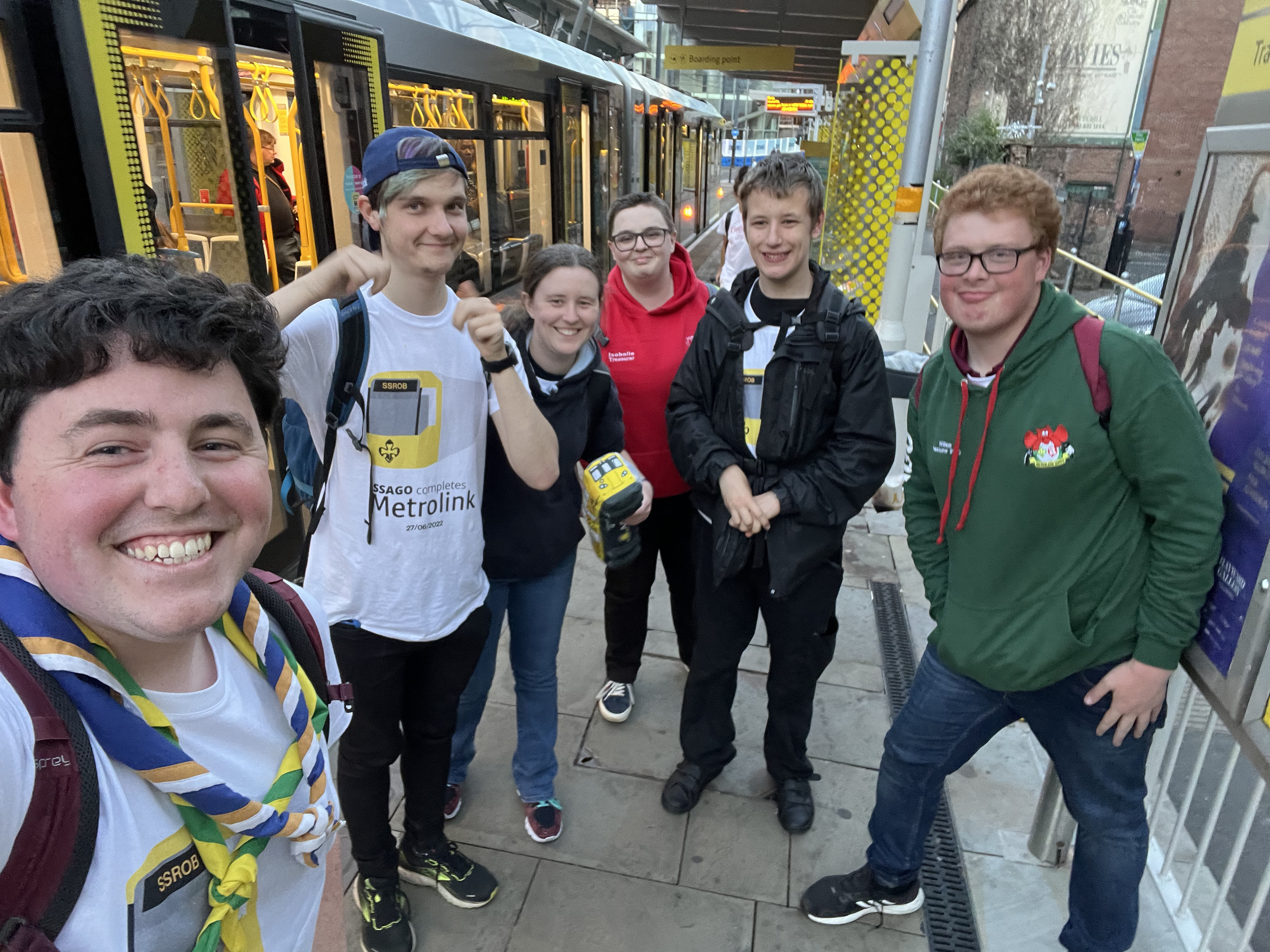 On Monday 27/06/2022, adorned in matching t-shirts and looking like a very nerdy stag do, 6 members of the SSAGO Strategic Rail Operations Branch (SSROB), led by Stephen Moore and I, started their challenge to visit every station on the Manchester Metrolink tram network.
Despite TransPennine Express trying to thwart our attempt, by delaying Nathan and I's train out of Liverpool, the team quickly adapted our plans and met on board a tram in Manchester Victoria, full of energy, and started the first leg of our journey out to Bury. We confused some ticket inspectors with SSROB's interim mascot Misery, and they threatened to throw us off after they figured out he was a Merseyrail train rather than a Metrolink tram.
We then boarded a very expensive bus out to Rochdale, where we boarded our next tram which took us all the way through the city and out to East Didders, enjoying some delightful views along the way. We stopped for lunch, and managed a brief trip to spoons, thanks to a cancelled Northen train (in the rail network's second attempt to make us fail).
We made our way to Manchester Airport on a train before completing the following journeys on trams:
Manchester Airport to Trafford Bar

Trafford Bar to Altrincham

Altrincham to Cornbrook

Cornbrook to Trafford Centre
After a brief pit stop navigating the maze of the Trafford Centre, where I failed to find a coffee, we waited for our next tram and were all quite surprised that we weren't bored of trams yet!
We then took a tram out to the Imperial War Museum where we dashed over to MediaCity (where I again failed to get a coffee) and made our way out to Eccles, where we moved along the tram to the back eight seats, which had by then become our usual spot. The tram, that would take us to the end of the challenge, set off and we went back on ourselves to MediaCity and continued out to Ashton-under-Lyne, where we spotted SSROB's favourite Affordable Funeral Company.
Going back on ourselves one last time, we made our way back to Manchester Piccadilly and stayed on the tram, because we hadn't quite had enough, to Piccadilly Gardens where we went to Bundobust for a well-earned tea.
After another trip to spoons (the third of the day for some of us!), we headed off for our respective trains home. We all had a wonderful time, and it was great to see so many people travel from so far for the day! All in all, it was an electrifying experience.
If this sounds like your kinda thing, and you'd like to get on board: you can join SSROB at ssago.org/projects. We've got plenty more events coming up soon!