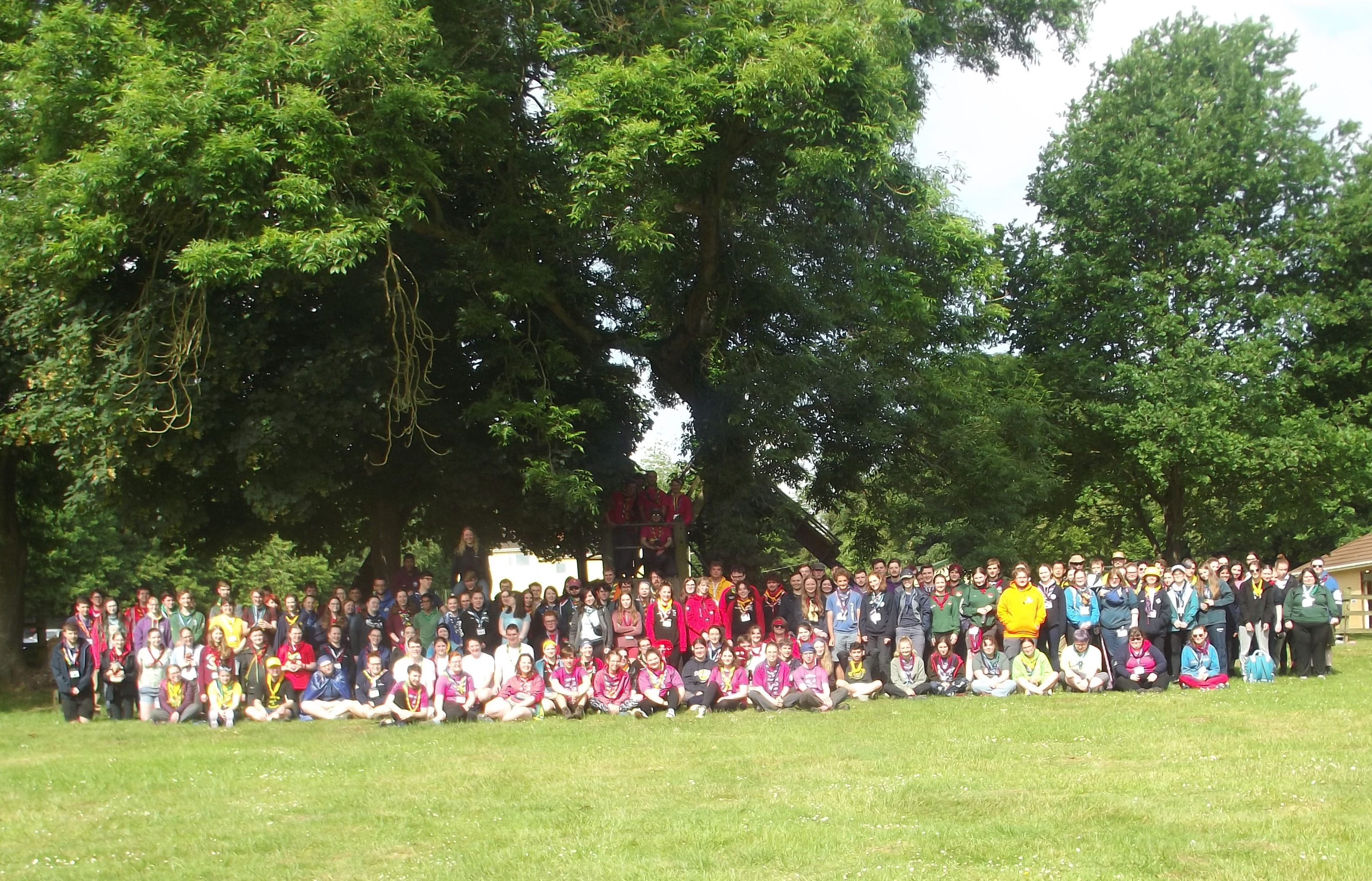 Rally of Games has been a year in the making, and what a year it's been - resulting in one of the biggest summer rallies SSAGO has seen. Members from across the country came together at Overstone to celebrate everything games related that SSAGO has enjoyed during and after Lockdown.
Following the impact of Covid, a lot of event-running experience had left SSAGO as people graduated and moved on, and there was close to a 2 year gap in any new events being run. The idea of Rally of Games was to try to solve that problem, by bringing keen people together who were interested in helping learn how to run a Rally across clubs and across the country - the idea being to share knowledge and a chance to learn in a safe environment in order to build up confidence and to be able to take that knowledge back to their clubs and help kickstart SSAGO events again! With many of the Rally of Games team having now been part of the next set of event bids, and more in the pipeline, we hope that's what has happened!
Being a Summer Rally, some people extended their camp and started arriving from Wednesday and Thursday, to a beautifully quiet campsite in lovely weather - between kindly volunteering to help get Rally ready and playing some nice board and card games, it was a nice start to enjoy the calm before the storm.
On Friday, the big numbers started arriving! People signed in and were given their patrol necker and merchandise and started to put up their tents in the scorching heat that the day brought. After enjoying their BBQ food, the evening kicked off with the Patrol Welcome, where SSAGOers got to meet the others in their patrol, united by their animal and colour, with some fun games and challenges lead by the patrol leaders and a chance to meet people outside their club.
Patrol points were introduced - being able to be earned for everything from being helpful to being ridiculous to brighten someone's day, along with achieving recognition on any activity throughout the weekend. As the evening went on, still in their patrols, most tackled the amazing Rally of Games Quiz led by the ever-talented Reuben in a fierce battle for some of the first patrol points for the weekend! As some people enjoyed the chance to relax on the ground rather than the mud compared to February or November rallies, others joined in with Wide Games across the site. The first patrol points started coming in and filling up the patrol jars!
Throughout the weekend, and starting on Friday, we also had the board game cafe with a collection of games for people to enjoy, and the cafe serving some very delicious and freshly made homemade milkshakes, toasties and pancakes!
Saturday kicked off with a traditional cooked breakfast, opening ceremony and then off into Milton Keynes for the morning activities. Those who were wishing for a cooler day following the heat on Friday however may have been slightly disappointed with the rain that came to replace the sun. Many chose to try out ClueGo, a new game created for Rally of Games, where working in patrols, SSAGOers would explore the surrounding area and interview witnesses, collect evidence and try to solve the murder of one of the RoG committee members.
Others chose to Geocache around Milton Keynes, which is well known for a good selection of caches, or to make their own way exploring the newly-designated city. Others set off on full-day activities to explore the mysteries and history of Bletchley Park, embark on a beautiful long hike including a trip to Stowe Gardens or to take on the challenge hike through all terrain, completing challenges along the way!
For those not on an all-day activity, the Saturday Afternoon activities offered a broad variety of activities to choose from - from the game-based bargain hunt, adventure golf or Dungeons and Dragons, to adventurous activities including Aqua Parcs, Treetop Extreme and Trampolining to local sightseeing with Castle Ashby.
Upon returning to site, there was a host of evening activities taking place to complement people's Fajitas. Kicking off was a Scouting and Guiding workshop to explore how the recruitment process across both organisations could be improved. Lockpicking as run by a SSAGO alumni, along with escape room sessions were both well received for those that liked a bit of challenge! The Game Show showdown walked us through various gameshows of excitement, featuring Who Wants to be a Millionaire, Just a Minute and I'm Sorry I Haven't a Clue for an evening of ridiculous entertainment and competition. However, for many, the highlight of the Saturday evening was the traditional and well-loved Ceilidh, for which we had a delightful band from the University of Birmingham coupled with a Caller who knew just how SSAGO works for a wonderful evening of dancing that showed that while SSAGO hasn't got any worse at ceilidh dancing, they certainly haven't got any better either!
Following the Ceilidh, the hall transformed into a Disco featuring all the SSAGO dance highlights and with SSAGOers channelling the last of their energy into the Mr Brightside and the YMCA, before heading over to the campfire to finish the evening, or to the cafe for some toasties, pancakes and homemade milkshakes!
As Sunday morning dawned with another tasty breakfast and offering an average of the weather of the two previous days, bringing about a pleasantly warm cloudy day, we saw the patrol games kick off in the morning with competitions between patrols on games of varying types across the puzzle zone, challenge zone, carnival zone, arcade zone, along with rifle shooting and archery. As patrols competed in one of the last chance for points over the weekend across three sessions, it was a true show of SSAGO being SSAGO: plenty of silliness, rule-bending, competition and general fun!
As the weekend came to a draw, after grabbing lunch from the buffet, we finished with the patrol games finale. Whether participating or watching the spectacle, we were entertained by patrol vs patrol tug of war, a lip sync battle featuring a stunning performance by one certain lion doing "Roar", a messy clothes race and of course, the Rally of Games classic: Lemon Jousting!
As closing ceremony brought the Rally to an end, the final patrol points were tallied up:
Lion: 107
Badger: 103
Fox: 97
Falcon: 77
Commemorable efforts all around, but well done to the Lions for just edging in at the top. Roar!
Of course, none of this would have been possible without the kind dedication, enthusiasm and support from many across SSAGO and beyond - SSAGO rallies cannot be run purely by their committees. Rally of Games would like to say a massive thank you to everyone who helped - from getting up early in the morning or staying late and helping with catering, to taking responsibility for their activity on Saturday, to helping build and set up or take down site, to driving people everywhere they needed to go, to all the little and big jobs that arise before and throughout the weekend. Not to mention a massive thank you to Overstone campsite and it's team who trusted us with their campsite for the weekend and provided so much support before, during and after the event to be able to deliver Rally. On behalf of the Rally of Games team - thank you!
Finally, we would love to say a massive thank you to everyone who believed in Rally of Games and joined us over the weekend and for bringing so much life and enthusiasm and joy to SSAGO, getting involved in all the activities and bringing that Summer SSAGO buzz we have missed for many years!
We hope you all had a lovely time and enjoyed Rally of Games, and we thank you for bearing with us in our slightly ambitious and slightly unusual event - we look forward to seeing you at the next SSAGO events!