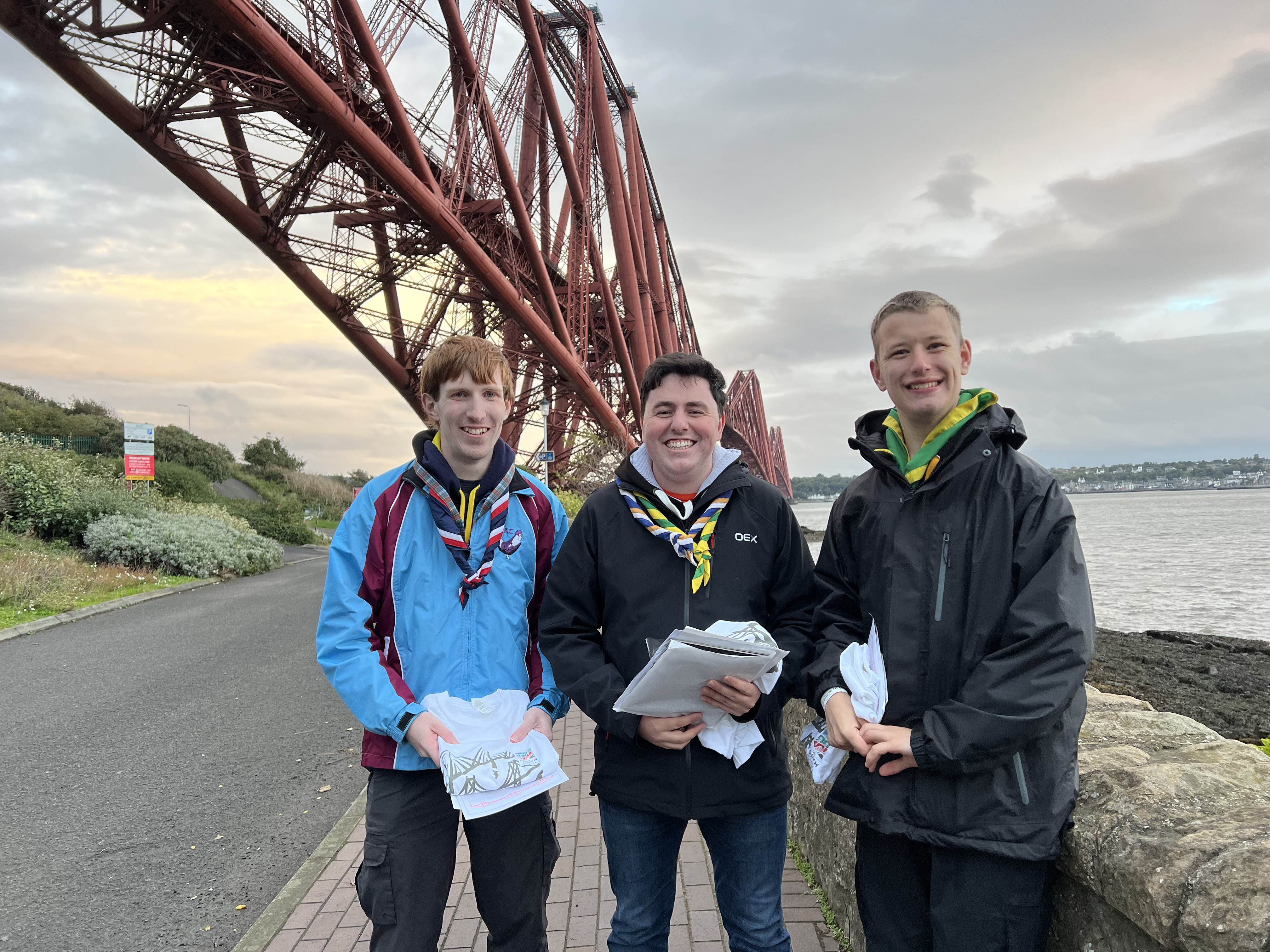 On Sunday 25/09/2022, Oliver, Stephen and I from the SSAGO Strategic Rail Operations Branch undertook a once-in-a-lifetime adventure to the top of the iconic Forth Bridge, a few minutes outside of Edinburgh.
The crew met at North Queensferry station, and had a short walk through the village to the base of the bridge, where we checked in and explored an exhibition about the bridge and its history. There were some concerns about whether we'd be able to go up, due to very high winds, but soon it was confirmed that the winds were just below the danger threshold.
We then had a fascinating talk from the Briggers, who are working to preserve the legacy and memory of those who worked on, and died building, the bridge. We took part in a simplified demonstration of the exhausting riveting process used to install the 6.5 million rivets used on the bridge.
Next, we got our safety gear and listened to the safety briefing on and prepared for our journey up.
We then ascended the bridge in the construction hoist, the journey taking a few minutes as we slowly climbed, watching the views become more and more impressive in the process. Eventually, we left the hoist and were greeted by a stunning panorama (despite the clouds) of the Scottish countryside surrounding the river and the bridge.
We cautiously explored the bridge, keeping a firm hand on the handrail as the high winds blew us around, and got a photo together at the photo spot at the end of the platform constructed for the experience. We then watched some trains go across the bridge before all too quickly it was time to return to the hoist and descend!
After an enjoyable, if slightly terrifying, descent we returned to normal, steady ground and spent far too much money in the gift shop while our photos were printing before getting some last photos by the bridge.
Before we left, we paid a visit to the memorial to the memorial for those who died building the bridge, a stark reminder of the vast cost to human life the construction of this revolutionary bridge cost. Perhaps the most harrowing moment was learning that the youngest person to die in its construction was only 14 years old.
All in all, an incredible and an experience I wouldn't hesitate to recommend to anyone. We're all excited for more SSROB trips like this soon!
If this sounds like your kinda thing, and you'd like to get on board: you can join SSROB at ssago.org/projects. We've got plenty more events coming up soon!